Not to alarm you, but in case you haven't noticed, it's not all beer and roses out on the cloud.  As I was rudely reminded yesterday…
Maybe you noticed if you got a weird message from me.  If it looks suspicious, don't click on or open anything in it. Just delete.
My Gmail account was "spoofed", meaning a hacker sends a message appearing to be from you to people in your database.  Who knows what their sinister purposes are, but you don't want to find out the hard way.
As convenient as the cloud is, there are dangers.  Wired Magazine published a story recently on how Apple and Amazon security flaws led to reporter Matt Honan's entire digital life getting wiped out – iPhone, laptop hard drive with family pictures and twitter account.
But as a professional copywriter, what I found horrifyingly fascinating is how clever these guys are at getting emails opened.  Check out some of these subject lines, sent to my account just today, and forwarded to me by Gmail, actual emails containing viruses kept on their server for my protection:
"ADP – FedEx Shipment Notification" from [email protected]
"PAYVE – Remit file" from [email protected]
"AT&T online payment confirmation" from AT&T Online Services ([email protected])
"UPS – Your package is available for pickup ( Parcel HMU1F94W )" from UPS Express Services ([email protected])
"Invoice #1492724 – Remit file" from [email protected]
"FW: Complaint Case 188281" from Better Business Bureau ([email protected])
Sick, I know.  Better forewarned than naïve and vulnerable.
A few measures you can take, if you're not already taking them:
1.    Back up EVERYTHING you value – Don't assume "The Cloud" will keep it safe for you.
2.    Use passwords that are hard to figure out, easy to remember, as this info-graphic demonstrates: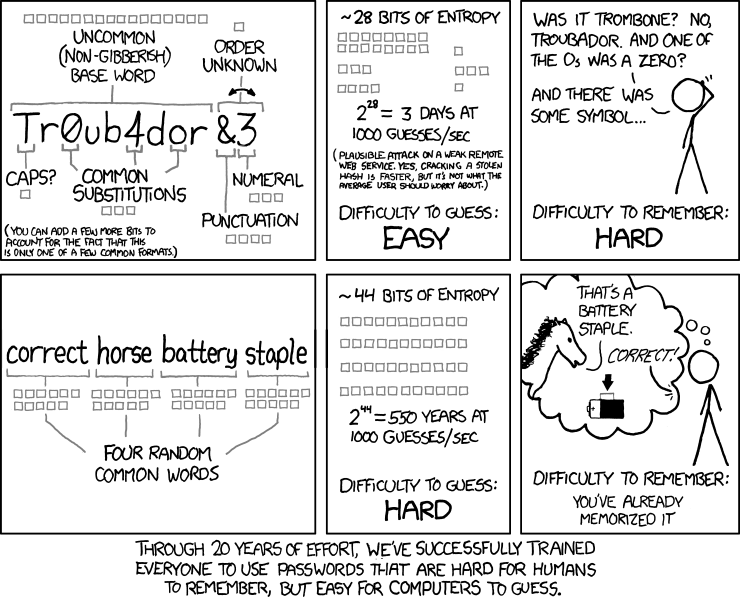 3.    Keep your spyware, anti-spam program, browser and operating system up to date and your firewall on.
4.    Turn your computer off when not in use.
5.    Be careful about what you download.
And eat more vegetables.  Well, I guess that's optional…
Just thought I'd share – hope you find this helpful.
To your wildest success